How you sleep affects how you age
SLEEPWITHME. Pillow
Buy here or at Top Dermatology Offices in US

The ULTIMATE BEAUTY Product
stop sleeping with a pillow that is aging you. (seriously. stop.)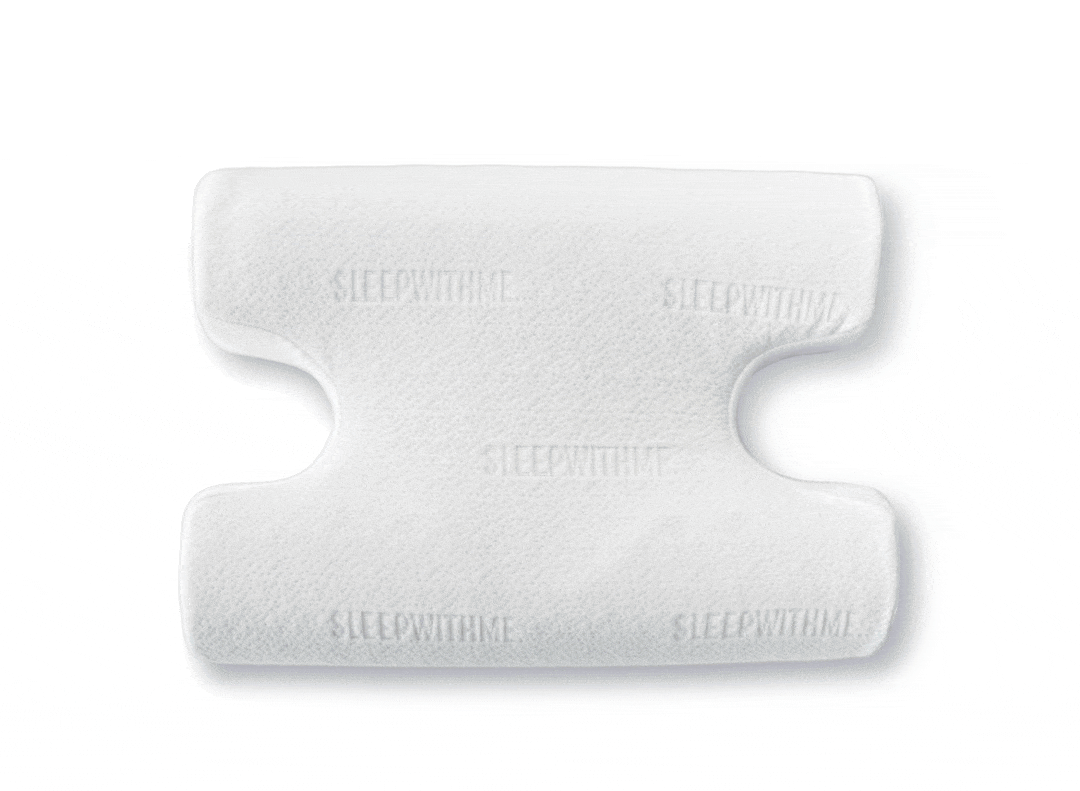 face, neck, back and body... we support you in all the right places.
(we're not kidding, we're that good!)
YOU spend a third of your life in bed, how you do it matters.
Upgrade your pillow to the only US patented, revolutionary designed ANTI-Wrinkle, ANTI-SleepCrease, AGE-DEFYING SLEEPWITHME. Pillow!
"The Best beauty sleep I've ever had! haven't woken up this refreshed in so long!"
"I used to sleep with the side of my face hanging over the bed to keep the pressure off it, this is the pillow of my dreams. Not a crease on my face."
"Finally, an Anti-Wrinkle Pillow that not only works, but is the most comfortable pillow I have ever owned. LOVE!!!"
"You protect your face and take care of yourself all day, every day - the same care should be taken all night, every night."
- someone smart
Night after night pillow pressure on your face will eventually show up on your face.
Did you know Dermatologists can tell what side you sleep on from the wrinkles and damage done to the side of your face from your pillow?
We did.
And we decided to do something about it.
We worked with experts: dermatologists, plastic surgeons, neurosurgeons, orthopedics and YOU to design SLEEPWITHME. pillows, to keep pillow pressure off your delicate facial skin and support under your neck, whether you sleep side-to-side, on your back or anywhere in between. Silk Pillowcases alone can't combat pillow pressure. You spend a third of your life in bed, how you do it matters. We have what you need to feel and look better. Sleepwithus and you'll never sleep with anyone else again.
Why SLEEPWITHME?
Revolutionary/Patent Design to Prevent sleep creases - Support cervical vertebrae - Provide proper spine alignment
CertiPUR-US Certified Memory Foam
Gel Infused for Cooler Sleep Temp
Bamboo for Breathability and Softness
100% Pure 22 Momme Mulberry Silk - OEKO TEX Certified non toxic, for Clean Ultimate Luxury
SLEEPWITHME. Everywhere Pillow Bag so you no matter where you're going, you're sleeping smart
We are dedicated to giving you the best beauty sleep ever, revolutionary pillows and functional sleeping essentials designed with your beauty and back in mind....get the sleep you need without ruining yourself in the process. XO SLEEPWITHME. Beauty
join our beautysleep tribe
and SLEEPWITHME. more often!
(Unsubscribe at anytime but we'll send you cool sleep stuff and discounts in the meantime)
Stay Connected

@sleepwithmebeauty