"The Ultimate Beauty Product."
We love sleep. A lot. We love adventure, life, love and laughter, but we LOVE bed. And if we could spend more time in bed, we would! It's one of our happy places. And pillows top the priority list. We wanted a pillow that was so comfortable you could fall asleep just looking at it and something we could put our heads on every night that wouldn't damage our faces and unnecessarily AGE us night after night. Once we brought a whole team together of beauty experts and started refining & improving, we came up with what we believe are the best pillows available anywhere. We've taken a lot of time, alotta naps and put in a ton of effort into creating Sleepwithme. Sleep is what we love and sleep is what we do. Well, we do a few other things too but we are sleep and beauty junkies! Sleepwithus. and you'll never sleep with anyone else again.

See below....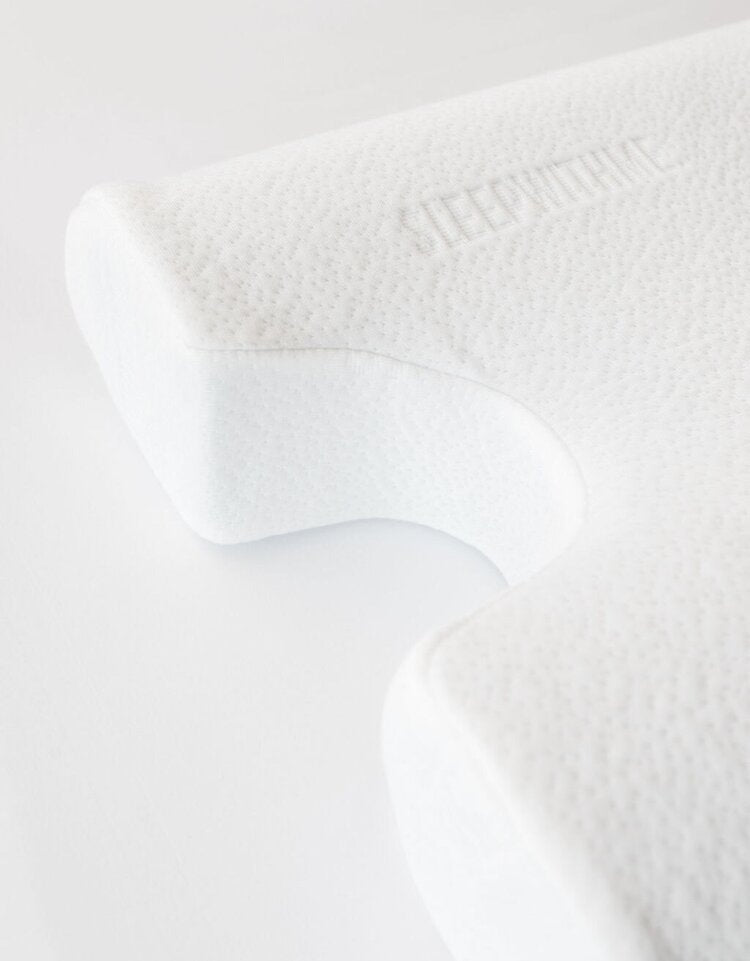 All memory foams are not the same. Quality varies tremendously, we have researched the best sourcing partners and optimized densities for the ultimate support and comfort. Unlike most memory foams on the market, the SLEEPWITHME. pillow springs back to its shape night after night to give you the best sleep ever while supporting your face, head, neck and back.
CertiPUR-US.
Memory foam inherently inhibits the growth of bacteria, mold, fungus, dust mites and is hypoallergenic. We use only CertiPUR-US certified memory foam.
Considering all (and there are so many) memory foam manufacturers all over the world, we simply could not and would not put our heads down on a pillow that was not certified.
CertiPUR-US® is a certification program administered by a not-for-profit organization. CertiPUR-US certified foams are:
Made without ozone depleters
Made without PBDEs, TDCPP or TCEP ("Tris") flame retardants
Made without mercury, lead, and other heavy metals
Made without formaldehyde
Made without phthalates regulated by the Consumer Product Safety Commission
Low VOC (Volatile Organic Compound) emissions for indoor air quality (less than 0.5 parts per million)
No Fluffing Needed.
Feather, shredded foam and synthetic filled pillows lump up create bumps or flatten out over time with no support for your neck and back. SLEEPWITHME. pillows are contoured and ergonomically shaped to support the natural curve of your body. Designed to support your face, neck, head and back, giving you strain and pressure free sleep.
Bamboo.
We chose this fabric over cotton for all of its amazing attributes. Bamboo is dreamy soft, moisture wicking and quick drying. And it's thermoregulating and breathable All the advantages are all enhancements to a good nights sleep.
Bamboo is also a renewable source, grows rapidly with little water and requires no pesticides or fertilizers. The soft inner layer of the bamboo is mixed with a natural solvent, breaking it down and turning it into Bamboo viscose. The Bamboo viscose is then spun into a super fine soft yarn to create the softest sleep ever.
100% Pure 22 Momme Mulberry Silk .
We wanted to offer the option of Silk, the best Silk available. 100% Pure 22 Momme Mulberry Silk is the best silk and we partner with an expert who has been producing their own silk along every stage of the process. Our very high expectation of quality is directly aligned with what they have been doing for hundreds of years. SLEEPWITHME. silk pillowcases are made with the highest grade long silk fibres available.
Hypoallergenic
Anti-Bacterial
Less friction on your face and hair than other fabrics
Provides a cooler sleep
OEKO-TEX Certification.
There are countless silk manufacturers and traders all over the globe selling a wide range in silk quality. We partner with the best silk manufacturer in Asia to create our custom cases with the highest quality and grade of silk available, made with no toxic chemicals. We pay more for a better product and have never been happier.
Our Silk is OEKO-TEX certified, meaning our Silk passes the highest criteria of testing for harmful, toxic chemicals. STANDARD 100 by OEKO-TEX® is one of the world's best-known labels for textiles tested for harmful substances.
If a textile article carries the STANDARD 100 label, it's tested for numerous regulated and non-regulated substances, which may be harmful to human health. In many cases the limit values for the STANDARD 100 go beyond national and international requirements."